'Culture eats strategy' has become accepted business wisdom. But is it possible for dynamic companies to maintain their unique culture and appeal as they expand and avoid the growing pains that affect so many firms?
There are many examples of corporate cultures that have failed the test of time, often in a relentless quest for growth. Enron set the benchmark with its large-scale corporate fraud and corruption. But the past months have also brought us the organic food chain Whole Foods, which had reportedly lost 14 million customers in 18 months until being bought by Amazon, and Uber with its core value of 'always be hustlin'. The common theme is the failure of their corporate culture and governance practices to keep the organisation on the straight and narrow. In each case, there's no doubt that it was instrumental in their growth strategy, but also in their misfortunes.
Insights from our International Business Report (IBR) tell us that boards are taking steps to get a firmer grip on their corporate culture. For example, 80% (50% globally) of the boards in India have culture as a standing item on their board agenda and 85% (71% globally) are establishing internal controls that address culture and employee behaviour.
While culture clearly has a key role to play in the success of every enterprise, how can companies scale and grow their business while retaining the culture and model that helped them get established in the first place? Particularly as they enter new business areas where there are different norms and cultures.
Karen Brice, who heads up the client facing leadership and culture practice at Grant Thornton UK, agrees: "One of the biggest challenges that small businesses face in executing a strategy of fast growth is what happens if performance starts to flat-line? The leaders are often brilliant business developers and networkers but aren't always so skilled in managing people who don't necessarily share their passion and drive. For a business to be successful, its leaders need to be as connected with the values and culture, as they are with the strategic plans. Growing pains are a necessary part of business growth but they can be mitigated by getting people to really buy into both the strategy and the culture – and that requires confident, accessible leaders demonstrating ownership and alignment."
Learning from others' mistakes
A common misconception that emerges as companies grow larger is that anything to do with culture is 'soft and fluffy' and can only get in the way of driving action and results. In fact, the opposite is true. Creating a great place to work for your people isn't simple but it's worth the effort because when achieved, it generates a workplace where motivation levels and talent retention are high and the organisation stands out in the recruitment market; all critical factors in the achievement of targets.
As Karen puts it: "Great company cultures aren't actually soft and fluffy – they are anything but. High performing organisations have cultures that value recognition and accountability in equal measure. It should be a goal for all organisations that they require everyone to contribute positively at all levels to the employee and client experience. That means holding negative behaviours and actions to account at all levels of the organisation. But how many actually achieve that? Financial services is a good example of a sector where regulation requires accountability at board level for execution of a positive culture. No one doubts that translating that into accountable action through governance, risk and conduct is tricky, but it's a worthwhile challenge and, if achieved, delivers significant return on investment."
Another mistake organisations make as they grow is that the responsibility for culture tends to rest with the HR Director. Research shows that boards who balance their agenda between the 'what' and the 'how' are far more likely to be successful and sustainable.
"It still surprises me that at board level, it's still ok to avoid peer accountability around owning and driving a positive culture from the top," says Karen. "Tackling the real elephant in the room, namely their own leadership behaviours and interactions, can just be a step too far – and yet how can boards be effective without that?"
Boards need to lead the way
In many cases, CEOs with great skills have been appointed. But they have not necessarily been culturally aligned to the organisation or its founders. As such, they have found it difficult to sustain and grow the business. When hiring a CEO, companies and founders need to consider the importance of their fit with the organisation's culture. It needs to be given equal weighting with skills. It's up to directors to constantly hold a mirror to the CEO or the founding partners. They have to ensure they communicate the right culture, so that the organisation picks it up and people follow it. Communication is key at all layers of the organisation. Everyone needs to be aware of what is expected from them.
"It's a key role of directors to constantly give feedback and moderate the founder or CEO so they are communicating the right messages. Sometimes boards have failed in this area. Regulators have recognised the importance of role of independent directors in this aspect and are now reviewing their role."
Millennials and strategic objectives
Recruitment and retention are also key considerations. Earlier this year Grant Thornton UK worked with Hay Group on a series of webinars (i), bringing their research into 'What Workers Want' to market. While 45% of decision-making around 'should I go or should I stay?'(ii) was down to salary, the second most important driver was culture.
Karen explains: "The data showed that 25% of decision-making around jobs related to 'is this a place I want to work? Is it an organisation I can trust to provide the type of culture that will engage and stretch me?"
Millennials are also interested in the ethics of the organisation's purpose. "When we ask our graduates why they have chosen to work at Grant Thornton, the response often relates to our strong purpose of enabling a vibrant economy and supporting organisations to build into strong, dynamic businesses, regardless of their size. Young people want to know that they can make a difference and that they have a voice."
Culture: stuck in the middle?
For many organisations, the biggest challenges aren't necessarily at the top or at the bottom of the hierarchy: they're in the middle. Sir Win Bischoff, Chairman of the UK's Financial Reporting Council, had this to say in 2016: "Culture change is more easily achievable at the top and bottom, through a hiring and induction process, but there is a vast and important middle level you have to convince. Changing a culture is very difficult because that middle level of people has been with the firm for five, ten or 15 years. To change culture, you almost need to have a disaster for that big middle group to want to change."
Bhanu agrees: "One of the elements that companies are now realising is the impact or the importance of middle management. The junior team always looks up to the immediate middle management and then to the next level. So it's important for the middle management to be aligned. Many companies have started to hold orientation programmes and training sessions for them to drive the desired culture."
Karen adds: "One of the most productive ways to engage people in the middle tiers is by ensuring they know they have a vital part to play in translating the narrative around the strategy and culture into action, regardless of function. Getting the values and behaviours aligned and embedded across the teams so they think and act as a single community is one of the most powerful enablers for change an organisation has in its toolkit."
'The right thing to do'
Despite the alarmist headlines, there are organisations doing great work with regard to culture, not least in the financial services sector. Karen says: "If we look at the leading organisations in this sector, we see them outperforming their counterparts in the key matrices of employee and customer experience, attraction versus attrition, and financial performance."
She goes on to say: "It often has as much to do with them making the best of what they have and what they do, rather than keep reinventing the wheel and increasing complexity. Successful boards and leaders know how to grow their businesses by linking all the elements of a future fit organisation to narrative and execution; namely purpose, vision, strategy, culture, decision making frameworks and policies."
And as Bhanu notes: "Frameworks are essential but, when in doubt, people need to be able to identify the right thing to do and that comes down to culture."
Can you protect your culture?
Grant Thornton's recent report, Beyond Compliance (iii) – the building blocks of strong corporate culture, sets out four key recommendations to ensure businesses of all sizes can enhance their culture. The first is to conduct a culture audit or assessment to get a clear picture of your organisation's culture, the consistencies and inconsistencies. Next, in the context of where you want to be (the 'To be', desired behaviours and activities) setting a code of conduct – the behaviour expected from all employees. The attributes of the evolved culture will then need to be tested against business challenges such as potential areas of risk and non-compliance. Finally, it should be refined and improved.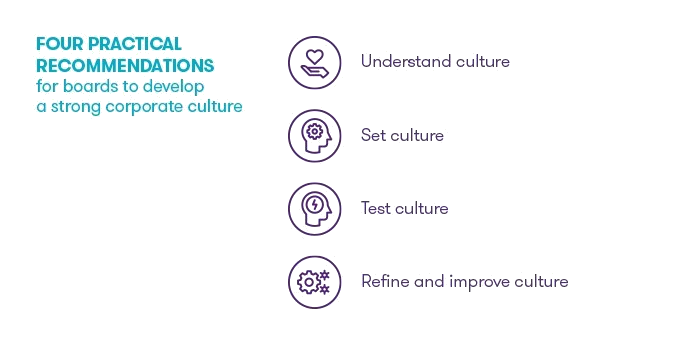 As Kim Schmidt, National Head of leadership, talent and culture at Grant Thornton Australia, notes in Beyond Compliance: "Culture has to be a key focus for the CEO, their senior executive team and the board because it has a direct impact on organisational performance and its ability to execute the organisation's strategy."
Whether it's for breakfast or lunch, it's clear that culture eats strategy.