With more goods and services crossing national borders, businesses are faced with increased indirect tax obligations across more countries.
The global trend in the expansion of indirect taxes and tax rates mean that poor risk management and controls can drive up the cost of compliance. Grant Thornton's GST team takes a rigorous approach to help you keep up with the increasingly complex regulations and gain greater efficiencies so that you can focus on what matters to you.
How we help
Our GST team supports organisations throughout the entire business life-cycle and across a range of functions
GST registration, administration and de-registration matter: Our services assist the full spectrum of clients including, those that have just incorporated in Singapore and require assistance with GST registration and other start-up advice all the way through to those requiring de-registration and GST advice on liquidation proceedings.
GST compliance: We prepare / review and submission of GST returns and handling GST audits and dispute negotiation and resolution matters with the IRAS.
GST risk management: We conduct voluntary and mandatory IRAS Assisted Self-Help Kit ("ASK") reviews. For our larger clients we also perform IRAS Assisted Compliance Assurance Program ("ACAP") reviews. We also assist and advise clients on other matters such as statement of practices (SOPs) and perform customised GST training.
GST advisory (value-add): We provide an array of value-add services to our clients including advising on the tax liability of transactions (including submission of rulings from the IRAS), tax-efficient planning for transactions and structures.
GST Schemes applications and renewals: We support clients in making new scheme applications or renewing their existing schemes with the IRAS (e.g. MES, IGDS, A3PL, AISS etc).
Transactions advisory services: GST advisory services on mergers and acquisitions
New industries and changing landscape: We assist and advise on changes in the GST landscape of the digital economy (e.g. Digital services, reverse charge and cryptocurrencies)
Case study
A tax-efficient solution to importing goods into Singapore
A global producer of carbide solutions and top-class quality precision tools found a tax-efficient way to import goods into Singapore and secure an agreement with a Singapore-based customer.
Read the case study
Case study
Smooth renewal of Major Exporter Scheme status
A logistics company with numerous corporate customers successfully able to renew their Major Exporter Scheme status after a previous tax agent was unable to complete the agreed scope of work.
Read the case study
Why Grant Thornton
We appreciate that every business is different. Whether you are looking to register for GST or manage your GST risk, expect tailored solutions designed to meet your objectives.
Accredited and experienced

Our team is made of accredited tax professionals have successfully helped clients achieve efficiencies and reduce tax risk.

An experienced team

Our team has experience advising multinational clients across different industries and can provide solutions that make sense for your business.

Value adding

Our experts are invested in understanding our clients' unique needs and supporting them to achieve their goals and objectives. We are committed to ensuring that our clients achieve the value they are looking for.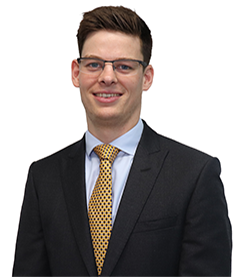 Singapore
Associate Director - Indirect Tax Lead
Singapore
Jeremy heads up the Goods and Services tax (GST) service line in Grant Thornton Singapore. He specialises in indirect tax matters and also has experience in UK and UAE.
Learn more about Jeremy O'Neill
Keep up to date with the latest news
Subscribe for timely technical updates and keep on the pulse with industry developments