Despite a global downturn in business optimism, confidence is buoyant in ASEAN, reaching the highest level ever recorded by the IBR in Q2 2018. However, growing concerns over exchange rate fluctuations among South East Asian (ASEAN) businesses threaten to reverse their positive outlook, according to new research from Grant Thornton's International Business Report (IBR).
Business optimism buoyant across ASEAN
The IBR reveals that business optimism among ASEAN businesses sits at net 64% in Q2 2018. This is up three percentage points from Q1 and compares with net 46% a year ago. The IBR data shows that despite the overall increase in ASEAN business optimism, in Singapore it decreased slightly from net 34% to net 32%, this is however 36pp higher than Q2 2017. In the Philippines it has increased 8pp to net 82%. Indonesian businesses remain overwhelmingly optimistic at net 98% – the highest among the countries surveyed.
This is the highest level of business optimism ever recorded by the IBR in the region. The new high is the culmination of four quarters of consecutive growth in optimism and reflects greater regional economic cooperation in recent years following the formation of the ASEAN Economic Community in 2015. Furthermore, the IMF is forecasting over 5% growth in ASEAN GDP from 2018 through to 2023, increasing slightly from 5.3% in 2018 to 5.5% in 2023[1]. Optimism rates are undoubtedly pushed upwards by the continued growth of China, a close trading partner for many of the region's economies.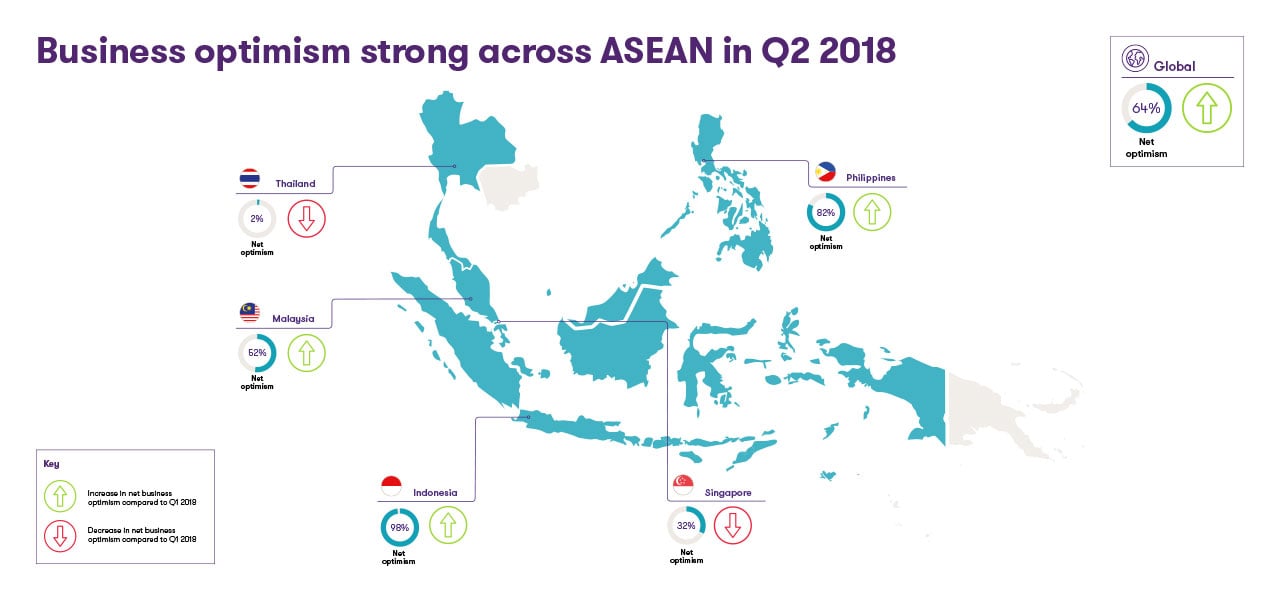 Despite broad-based optimism, concerns are on the horizon
The IBR also finds that behind this business confidence lies a threat. There are growing concerns among ASEAN businesses about exchange rate fluctuations, driven by the prospect of further US Federal Reserve rate rises this year and beyond into 2019.
Indeed, the proportion of ASEAN business leaders citing exchange rate fluctuations as a constraint on their ability to grow sits at 36%. This is a sharp increase from 29% in Q1 and 26% in Q4 2017. In the Philippines, concerns have increased by 8pp this quarter, in Singapore by 14pp and in Malaysia by 18pp.
Furthermore, exchange rates are not the only potential drag on confidence. Expectations for increased employment across the region have fallen from net 37% to net 31% – the lowest since the end of 2016. This reveals a more complex picture in the region despite its record optimism score.
---
[1] Source: World Economic Outlook (April 2018), International Monetary Fund (IMF)