One Belt, One Road – why is it so important?
China's One Belt, One Road outbound investment strategy presents a wealth of opportunity along major global land and maritime trade routes. But how can business owners outside China take advantage?
It's five years since the rest of the world became aware of Chinese plans to become a champion of globalisation and free trade through the One Belt One Road initiative (B&R), a USD$1 trillion infrastructure programme that affects Asia, the Middle East, Europe, and Africa. Over that time, 68 countries and international organisations have signed up for the project.
First proposed in a speech at Nazarbayev University in Astana, Kazakhstan by China's president Xi Jinping, a main driver for B&R is Xi's commitment to turning China's emerging economy into a 'moderately prosperous society' by 2020. China's president has set the same tight deadline for ensuring all of his nation's rural populations are out of poverty.
This might seem an easily achievable target for the world's second-largest economy but, in terms of GDP per capita, China is currently ranked 79th in the IMF's 2017 rankings, putting it alongside the likes of the Dominican Republic and Iraq.
If these challenging targets are to be met, then new trade routes connecting China with the rest of the world are essential. It will also allow China to move up the value chain by producing finished goods as manufacturing moves to countries such as Cambodia, Vietnam and the wider APAC region.
But while it's easy to see the scale of the opportunity along these historic trade routes, how can business owners gain exposure to this massive multi-generational project? And how do they best engage with Chinese businesses?
Business opportunities
An initiative on the scale of B&R sends out two clear messages. First, in terms of direct Chinese capital investment, hundreds of billions of Renminbi will pour into the development of railways, ports and power stations along the trade routes. Second, these developments will stimulate domestic investment. So, if they aren't already, dynamic companies should be looking to understand the opportunities it presents if they want to be part of the next chapter in global trade.
Xu Hua, CEO of Grant Thornton China, said "Belt and Road brings immense opportunities for growth. However, without a deep understanding of how to work with China and the Chinese, corporations will miss out. Getting the right advice from the right advisors will pay dividends in both the short and medium term."
The most significant area of opportunity lies in large-scale infrastructure projects. One of the most high-profile has been at the Sri Lankan port at Hambantota, which "will one day resemble Shanghai" with maintenance, oil storage and refueling facilities. The site has been the subject of a USD$1.1 billion purchase of a 99-year lease by one of China's largest state-owned companies, China Merchants Group. The port is only a few miles from the main Indian Ocean sea lane linking the Suez Canal and the Malacca Straits, a key route for Chinese imports and exports.
On the overland route, the first China-bound freight train carrying British products left DP World London Gateway terminal in April 2017 and arrived at eastern China's Yiwu city, known as China's 'world supermarket', after a 19-day journey. As of September 2017, the freight trains connect 33 Chinese cities with 32 cities in 12 European countries.
China's Belt & Road joins the global dots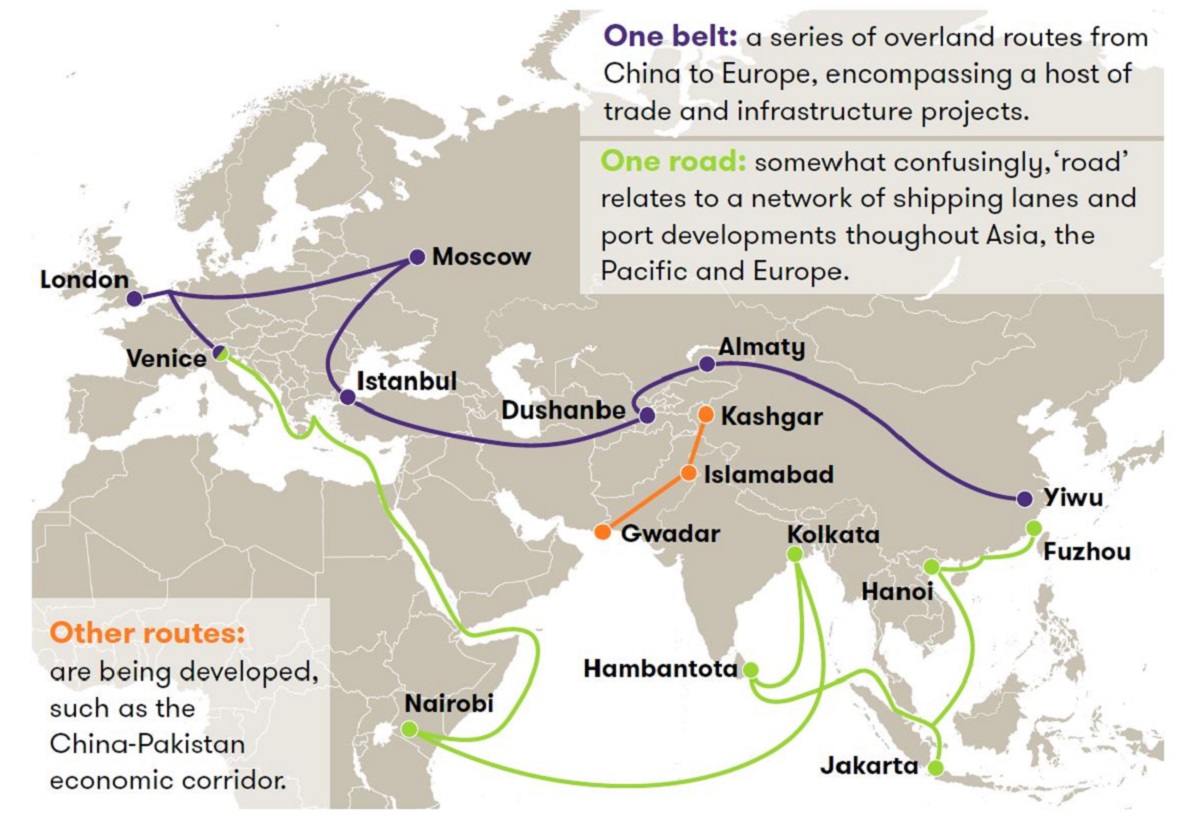 A steep learning curve?
But how easy is it for firms to take advantage of the opportunities? "It isn't as easy as you might think," says Jonathan. "First of all, the culture is different, so we have all learned how to engage with and speak to Chinese people. The main difference is in terms of behaviour, because of their expectations in terms of what they're used to when it comes to the business environment and relationships.
"A second issue is that the working relationship is much more challenging. And there is, of course, the language barrier. Chinese English can be good but it takes effort on our side, too. Fortunately, Grant Thornton International Ltd is set up to advise businesses looking to take advantage of the opportunities B&R presents," says Jonathan.
"Where Belt & Road is concerned, it's all about identifying and making the best possible use of the significant opportunities that are emerging," agrees Panos Vodinas, who heads Grant Thornton's China Europe Business Group (CEBG).
"Even for dynamic businesses, selling into a new market and setting up operations in another country is a step into the unknown. Lack of familiarity with the territory or little experience of doing business overseas means it can be difficult to bring plans to fruition," Panos explains.
"Whether it's a Chinese organisation considering investment in Europe or a European business looking to enter the Chinese marketplace, they will need to identify strategic business or investment partners," Panos adds. "They also need to understand the local complexities of the markets they are entering. Clients can access the expertise of our member firms through our CEBG to identify and realise the right growth opportunities."
For the CIS, the opportunity is there for the taking. "We are a natural transit route for China and Europe to trade with each other as the Eurasian part of B&R goes through our countries," says Gurgen. "It means there is a clear opportunity for us to capitalise on this and the possibilities it brings. We're already helping CIS firms on their learning curve to prepare themselves."
Five tips for working with Chinese businesses